THE PRIVATE SCHOOL OF BEACH VOLLEYBALL CLUBS
Year-round club TRAINING & lessons for 3rd-12th GRADE girls & adults
  

Measured approach

Level up your game with our trackable coaching system
 

CHampionship Coaching

Implement winning strategies directly into your game
  

team culture

Train with committed players striving to reach their potential
LIFE IS TOO SHORT TO WATCH FROM THE SIDELINES 
Not making the team is painful. Stop getting overlooked and under-instructed. Get the coaching you need to make the team.
YOU DESERVE BETTER COACHING
Avoid big clubs
Big clubs = less attention for you – get to the next level faster – at Circles everyone receives one-on-one coaching.
Improve faster
Our coaching system is your personalized game-plan to  "level up" your game to reach its full potential
Make the team
Impress your parents, partner, and coach when you step onto the sand a "beachy" player.
WE DON'T JUST CARE ABOUT VOLLEYBALL. WE CARE ABOUT YOU.
TRY US OUT
3rd – 6th girls & adults may receive a complimentary class by filling out the FREE CLASS form
MEET & GREET
7th – 12th grade girls interested in CIRCLES receive a complimentary 30 minute IN-PERSON consultation with Coach Chris 
REGISTER NOW
Ready to get started – simply choose the right club for you on the programs page by clicking the button below
STEP OUT OF LINE OF "THE BIG CLUB PECKING ORDER" & IMPROVE FASTER WITH CIRCLES PROVEN COACHING SYSTEM
As woman's beach volleyball grows daily, more and more players are wasting valuable time in the 'big club' pecking order. At Circles every player receives the same high level coaching within a proven system.
After 12 years coaching and also directing one of the top beach clubs in the country I've witnessed first hand "the big club pecking order". How it works is simple. As you become a more experienced player you move further up the chain towards the top coaches. Unfortunately most big clubs only have 1-2 top coaches because they're moving up the 'coaches pecking order" and going on to coach college ball or start their own club. So the majority of coaching you're receiving in a big club is from transient, amateur coaches getting paid hourly.
Pssssst little secret – THE MAJORITY OF 'TOP PLAYERS' IN BIG CLUBS GOT GOOD SOMEWHERE ELSE.
SO IF YOU'RE SERIOUS ABOUT PLAYING HIGH LEVEL BEACH VOLLEYBALL THEN STEP OUT OF LINE IN THE BIG CLUB PECKING ORDER!
Being passionate about every player receiving the coaching they deserve,  I created a beach volleyball coaching system which tracks and measures a players growth.
AT CIRCLES ALL PLAYERS RECEIVE THE SAME HIGH LEVEL COACHING, WITHIN A PROVEN SYSTEM, SO EVERYONE REACHES THEIR PEAK POTENTIAL.
CLUB PROGRAMS
Year-round training opportunities. Join anytime. Leave and come back without losing track of progress.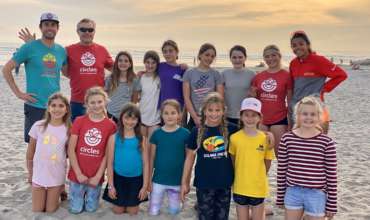 Dots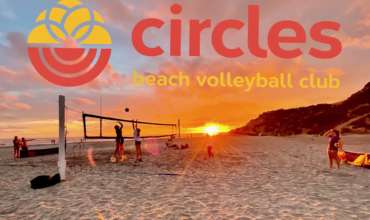 Circles
Girls/7th-12th
YEAR-ROUND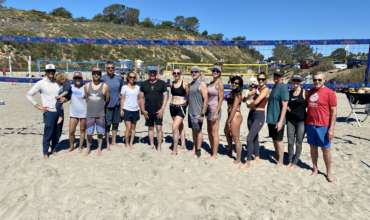 ADULT CLUB
Level/Intermediate
YEAR-ROUND
Here's what some past players who went on to the NCAA are saying
Testimonials
I started beach volleyball with Chris as my coach at age 12 and he taught me the game making me the player I am today, but also so much more. I have learned so much from Chris as my coach, trainer, and yoga instructor. His wisdom is something that has impacted my life for the better. Chris' emphasis on fitness, yoga, health/nutrition, and spirituality is something that is one of a kind and you won't find anywhere else.
He's been right with me through my college recruiting, tough losses, good wins, and break-through moments.  I remember at my very first practice, Chris put us through a workout so hard that I thought I was going to have to quit the club.  I grew to really appreciate the workouts though, especially the challenging "weekend warrior workouts" we did, because they improved my athleticism and overall fitness.
Chris places an emphasis on the biomechanics of beach volleyball, which appealed to my analytical nature; however, he also took a holistic approach to the sport that pushed me to grow outside of my comfort zone. From yoga and meditation to vision boards and nutrition talks, Chris cared about molding each person into an all around better version of themselves. His passion for life and the game of volleyball are infectious

3902 29th St, Del Mar, CA 92014 
Call Us: (858) 353-1176
chris@circlesacademy.org